These are a few of my favorite things
I've always been drawn (!)  towards the human form – from portraits to figures in a landscape.  One of my favorite college subjects was Anatomy for Life Drawing.  Today I still participate in life drawing sessions, where a group of artists hires a model to draw or paint. I also enjoy sketching unsuspecting passersby at a park or in a waiting room. 
I'm constantly inspired by nature, as well as the ordinary components of human life, which I internalize and express as the extraordinary wonders they actually are. The way the sunlight slants in May.  The way an orange is so much more than just the color orange, it's practically a rainbow. When you scrutinize something so closely, you not only illuminate for others its spectrum of colors, textures, lights and shadows, but in the process, something previously intangible is also revealed to you about yourself.
I'm lucky enough to have a dedicated studio attached to my home amidst the oak trees and sage brush in Carbon Canyon, CA.  My husband and I reside in a rural close knit canyon community where nature is accessed simply by stepping out of the house.  My daily walk amongst the trees fuels my inspiration, creativity and appreciation for all life.
While searching for an opportunity to learn silk painting, I realized that the perfect first project was to paint my son's tallit (Jewish prayer shawl) for his bar mitzvah. I loved this new medium, and got such favorable reviews that creating tallitot soon became my most popular commissioned artwork. I also create hand painted silk shawls, scarves and jackets.
It was a leap of faith to study art in college, whilst many voices in my head were telling me to find a traditional and financially secure career.  "To thine own self be true" thankfully won out, and I earned a Bachelors as well as a Masters of Fine Art in drawing and painting from Cal State University, Fullerton. 
I soon discovered that one strength was my fluency in many media, and to this day I happily move from watercolor to oil painting, painting on silk to drawing with pastel. Landscapes, people, and ordinary still life objects compete for my attention.  My expressions range from realism to symbolism, and the focus is always color and light. For several decades I have
 exhibited portraits, landscapes, still lifes and silk painting in Southern California.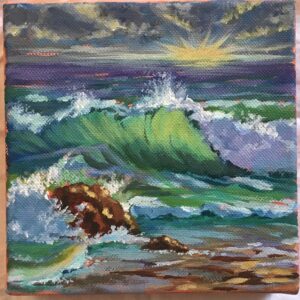 Cras ultricies ligula sed magna dictum porta. Quisque velit nisi, pretium ut lacinia in, elementum id enim. Donec rutrum congue leo eget malesuada. Cras ultricies ligula sed magna dictum porta.  Mauris blandit aliquet elit, eget tincidunt nibh pulvinar. 
Mauris blandit aliquet elit, eget tincidunt nibh pulvinar a. Donec sollicitudin molestie malesuada.